Radio Announcement:
Bob George Ministries Presents
Classic Christianity Radio with Bob George
Listen on KLTT 670AM Radio: Denver, Colorado
Weekdays at 11:00 AM Mountain Time
Coverage – KLTT 670 AM, Denver, is a 50,000-watt radio station with one of the largest coverage areas (32,000 square miles) of any station in the nation! KLTT reaches a five state region, including most of Colorado, and well over 5-million people.
​We at Bob George Ministries are so thankful to God for each of you for your prayers and support of the ministry. Because of your prayers and support it has made this possible to be on the radio air waves in Colorado. We look forward to being able to be on more radio stations in the future.
Join Bob George Ministries and listen in:
Listen online with your computer at: www.670KLTT.com – Weekdays at 11:00 AM Mountain Time
Other ways to listen:
Download the free "TuneIn Radio" app for your smart phone, Android phone, iPhone, iPad and tablets. Download TuneIn Radio and add KLTT Radio to your list of favorites.
"Now to him who is able to do immeasurably more than all we ask or imagine, according to his power that is at work within us, to him be glory in the church and in Christ Jesus throughout all generations, for ever and ever! Amen." Ephesians 3:20,21
Grace and peace be with you in Jesus,
Bob and Amy George, Debbie George Cannaday and Jim Warholic
Bob George Ministries
3411 Preston Road, Suite C13166
Frisco, Texas 75034
Websites: BobGeorge.net and ClassicChristianity.com
Purchase teaching materials at: shop.bobgeorge.net
Purchase MP3 audio files at: store.bobgeorge.net
Goodbye Is Not Forever by Amy George
—
New CDs and MP3 CDs Available for Purchase
We now have a number of Bob George teaching on audio CDs available for purchase from the Bob George Ministries eCommerce store.
Experiencing the Forgiveness of God – Taking the double talk out of a single event.
The Heart of the Gospel
The New Covenant – Entering God's Rest
Law and Grace
How to Have a Proper Self-Image
Our Eternal Inheritance
Marriage a Matter of Identification
Victory Over Depression
The Gospel of John (40 lessons MP3 discs – Info on MP3 Players)
Born Free (10 Pack)
Sold in packs of 10, Born Free is an excellent tool for sharing the truth about salvation with your family and friends. This 17-page booklet explains in detail the Gospel of Jesus Christ, and what is necessary to accept Jesus as Savior. It's perfect for leading someone step-by-step into a saving relationship with Christ.
Purchase: Born Free (10 Packs) – Now Available!
Purchase: Bible Study Books – A Closer Look Series – Now Available!
All eight of the Closer Look Series of Studies by Bob George have now been added for listening pleasure. A closer look at Your Identity in Christ was just added on 05/22/2013. These teaching series, presented by Bob George in his down-to-earth style, are classic truths of Jesus Christ, that are key to understanding the things of God. Allow the Holy Spirit to teach you on your life's journey with Him.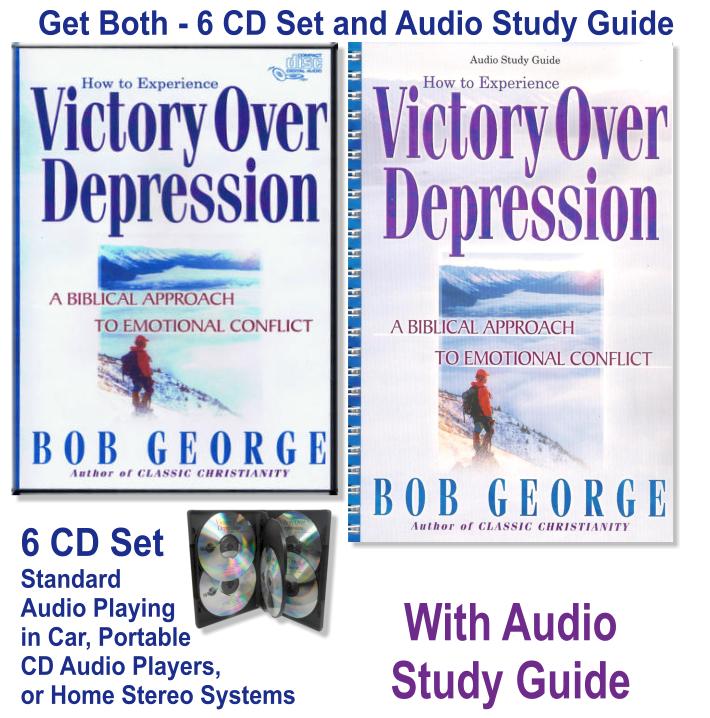 Experience Victory Over Depression Today – Click to Purchase
Bob George Ministries eCommerce store is now open for physical goods orders and downloads of the
Closer Look Series
of bible studies. Please read the
instructions and follow the procedure
for purchasing and downloading these MP3 audio files. Future plans include making available other Bob George audio files.
Remember, Jesus is the message.
"Remember, our Message is not about ourselves; we're proclaiming Jesus Christ, the Master. All we are is messengers, errand runners from Jesus for you. It started when God said, "Light up the darkness!" and our lives filled up with light as we saw and understood God in the face of Christ, all bright and beautiful." 2 Corinthians 4: 5-6
---
Bob George Ministries is now accepting tax-deductible donations.
With Three Ways of Donating: Check, PayPal, and Google Wallet
We invite you to listen to the last on-the-air radio message from Bob George.
Take a Closer Look at The Finality of The Cross
Listen to the bible study, a Closer Look at the Finality of the Cross. Follow along with Bob George as he teaches what the finality of the cross really means for us today. Gain a better understanding of how the Cross is the dividing line of human history.
Posted by Bob George: via Admin
The Empty Tomb – Early on the first day of the week, while it was still dark, Mary Magdalene went to the tomb and saw that the stone had been removed from the entrance. So she came running to Simon Peter … Continue reading and listen to message →
Jesus Changes Everything
It's Time to Embrace God's Unconditional Love
Grace changes everything because of one often-ignored foundation of the faith—the New Covenant.
Many Christians feel anything but new. They are told salvation is a free gift, but trying to live up to what they think God demands seems like anything but a gift. Feel free? They don't. I explain how this results from basing Christianity in the Old Testament—making the faith a law-based religion.
But the New Covenant God has put in place, through Christ's death, changes everything. Readers will see the joyful truth that:
effort, guilt, and fear from living under law give way to rest and peace from realizing their relationship with God doesn't
depend on their performance
motivation by punishment is replaced by inner motivation through God's complete acceptance
the experience of distance from God gives way to the experience of His unconditional love.
Purchase the book: Jesus Changes Everything: It's Time to Embrace God's Unconditional Love
---
The story of Classic Christianity is truly miraculous. Since its initial release in 1989, I have seen God use this book in ways I could never have planned, dreamed, or even remotely imagined.
My desire was that God would use it to call people back to "Classic Christianity". Over these past 20 years, Classic Christianity, has found its way into the hands of world leaders, Christian missionaries, churches, pastors, and ministry leaders. Copies are circulating behind prison walls, are being passed around entire congregations, and are finding their way to individuals who are burned out and bogged down by religion.
I believe God is calling people back to the simplicity of the gospel…back to His grace, mercy, and truth…back to the person of Jesus Christ. Respond to His call, and experience the freedom that is yours in Him.
Read some of the life changing comments from readers of the book, Classic Christianity.
Purchase: Classic Christianity: Life's Too Short to Miss the Real Thing